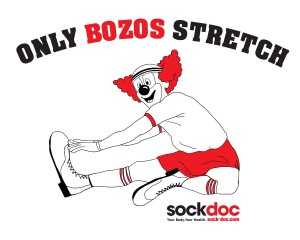 I obviously wouldn't go that far seeing as I keep posting videos of Kelly Starret, but I do think that the arguments for indiscriminate stretching are limited. For some of us at some times to address particular issues i think there is an argument for stretching.
Anyway, Zero Drop has posted this list of
10 Reasons Why Runners Should Not Stretch
Stretching is exercise for the muscles like sea water is hydration for the body. When you're desperate for relief, it feels so right but only makes things worse.
All athletes, especially runners, are so passionate about stretching. They defend it like their political association, religion, or family. I think many of them may have pictures of their kids in their wallets doing all types of cool stretches that they show their coworkers every day at the water cooler.
Runners will follow any trend they think will make them run faster. Whether it's a new supplement, pair of socks, pair or shoes, custom orthotics, or stretching. They're the first in line for the Kool-Aid.
Stretching is a conditioned behaviour, not one we are innately born with. I see my kids run, jump, climb, throw things, and carry objects of all sizes. They move well, and efficiently. I've never seen them stretch. Their developing nervous systems know better.
The day I see my dog holding a stretch is the day I'll start stretching too.
Flexibility is a reflection of overall health and fitness. Stretching does absolutely nothing for health or fitness. It's not exercise. It's not a warm-up or a cool-down. And it definitely doesn't substitute for restful sleep or a wholesome diet.
Yoga is not stretching. Stretching is not yoga. Enough of that claim.
Make sure you stretch if you want to weaken muscles, promote injuries, decrease performance, delay tissue healing, and have absolutely way too much free time.
Stretching reduces injuries and improves endurance performance just like certain shoes will make you run or jump faster. Neither claim is true.
I enjoy watching runners stretch. They must stretch because they think they will run faster. I bet they believe in Sasquatch too.
Sock Doc's full article
STOP STRETCHING
is definitely worth reading
Stretching may increase your flexibility, but you will most likely be weaker and the results are often short-lived. Saying that stretching reduces injuries or improves endurance performance, (the two main reasons given for stretching), is like saying certain shoes will make you run or jump faster. Many continue to make both these claims, yet neither has ever been proven, and many still buy the shoes and stretch with them on. Stretching is not exercise and not a warm-up before a run or any activity. Aerobic activity is the best warm-up as it increases flexibility in a safe way while improving oxygen utilization, lung capacity, and fat burning.
So balance your muscles and your entire body by balancing your life with proper exercise, diet, and other lifestyle factors. Stop drinking that Kool-Aid propaganda and just say "No!" to stretching!