So I was reading a standard journalists piece about the Tabata protocol - you know: "Get fit in 4 minutes!!!" and all that. So far so good - this stuff keeps popping up every now and again as a journalist discovers interval training and decides to break it to the world.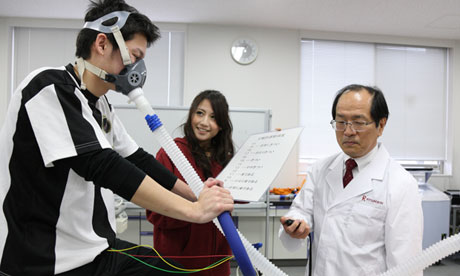 Anyway, what was different in this one was that they actually spoke to Tabata himself. He stressed something that I mentioned in the
Wingate post
- you need to work very very hard:
"....I often go on YouTube and, while I am honoured that people are doing it, some are doing it wrong because they don't realise the intensity you need to work at," says Tabata.
Tabata is addressing this by staging his own PR campaign:
It's slightly surprising, therefore, that the plan is still the preserve of the serious athlete and musclehead crowd – although that may change now that

T

abata has agreed a deal with

Universal Studios

that will lead to a network of instructors and a DVD range released towards the end of the year

.
So we are facing an official Tabata instructor and DVD programme.
The story is at
Oh well....here we go.