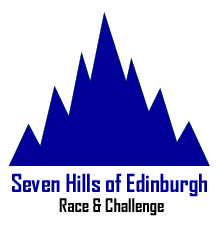 Somehow my hillwalking hasn't really got going this year (although there is now a weekend booked in at the start of July probably in Glenfinnan). When working on the elections I was either working at the weekend or was just too knackered to think about getting up and away early on a Saturday. Then I've been struggling to get going....
Didn't do much yesterday either - weather up north looked a bit dodgy and I had been out on Friday night. Today though I took the plunge and did something......the
Seven Hills race here in Edinburgh
. 14.2 miles with a total of 2200feet of climbing around Edinburgh's hills. There is no fixed course just a requirement that you need to visit each of the hills in turn, so the experts are always looking for shortcuts. It is an interesting race for that reason - you are not sure whether the guy you are following has a great route idea or is just lost.
I last did this in 2002 when I was running a bit more and was probably fitter for this type of thing. On Friday I saw it was on this weekend and started to toy with the idea of entering. Then, when I didn't do much yesterday I more or less decided to have a go.
The race starts on Calton Hill with a nice view of Arthur's Seat, the last hill, Edinburgh's own city centre mountain.
After that it is
The Castle (esplanade)
Corstorphine Hill
Craiglockhart Hill (East)
Braid Hill
Blackford Hill
Arthur's Seat
I must have walked at least half of the course - all the uphills and then lots of times on the flat too - but I was happy to get around OK. It was warm and sunny too, a really nice day.
After the castle there is a long trip out to Cortorphine Hill, where I got a bit lost on the top trying to find the checkpoint. Then it is back through different residential areas before a stiff climb up Craiglockhart Hill.
Arthur's Seat at the end was a tough climb and dropping back down towards Holyrood Palace and the Parliament, my quads were sore. It is a great race though - really friendly without all the hype that goes along with many races. The support round the course was great too, including one house in Nicolson Street where a guy was giving out water and a little boy was happily spraying us with a hose.
I was about 25 minutes slower than the last time I did it, but with the total lack of training, I was happy with my time. Well....not a total lack of training, just a lack of distance running.
I tried to keep taking photos on the way round, some of which are below: