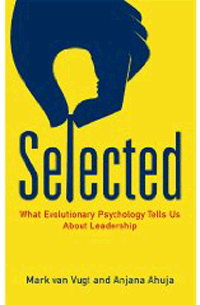 I am reading a book that would appeal to anyone with an interest in the paelo diet / evolutionary fitness. It is called :
Selected: Why Some People Lead, Why Others Follow and Why It Matters; What Evolutionary Psychology Tells Us About Leadership
It is a really interesting read and well drafted as well (I like the way that there is an introduction that tells you chapter by chapter what is coming).
The ideas are familiar if you have read arond hte ideas of evolutioanry fitness. Two of the basic ideas put across are :
The savannah hypothesis - we are built as if we hunters living on the african savannah, living in tight tribes of 50-150 with really active life styles.
The mismatch hypothesis - modern life does not align with this "ideal" context - i.e. we don't live or eat like hunters, we don't have active lifestyles and we don't live in tight tribes of 50 - 150. Hence we face obesity, depression, etc etc
That is all pretty familiar stuff if you have hung around the sort of blogs (like
Kurt
,
Methuselah
,
Matt Metzgar
or
Asclepius
) that I point to or read the interviews with people like
Keith Thomas
or
Frank Forencich
, or of course
Mark Sisson
.
What makes this interesting is that these ideas are applied to leadership.
We are not just physically built for the life of the savannah, we are psychologically wired for it to. Without rationally wanting to we follow leaders who look like the Big Man who could protect us from attack or who could lead us in battle. We follow those who are tall and fit, we don't naturally gravitate towards women leaders.
Our minds have been mainly sculpted during the Pleistocene era, spanning from around two million years ago until about 12,000 years ago, when we lived in small, isolated communities of about 150 people. In the absence of CVs and other objective ways of measuring competence, a fit, healthy, manly appearance was synonymous with leadership potential. In hunter-gatherer societies, conflicts were primarily settled by force, so being strong and tall were prerequisites. And sure enough, the taller candidates routinely triumph in American elections (for example, Obama, 6'1", beat McCain, 5'9"). Another study found that CEOs rated as "stronger-looking" by observers tended to run higher-ranked companies than weaker-looking individuals; while children confronted with photographs of electoral candidates generally favour the eventual winner.
Here is the author talking about the ideas:
It is a really fascinating book and highly recommended.
There are some extracts and interviews available at:
The New Scientist
The Daily Telegraph